4 REASONS WHY YOU AREN'T ACHIEVING THE WEIGHT LOSS RESULTS YOU WANT
1. YOU AREN'T BEING CONSISTENT OR PATIENT ENOUGH
Sustainable weight loss can take anywhere from 3-6 months at least. It may take some time to see significant changes on the scale, changes in how clothing fits and changes in your body composition including muscle gain or fat lost. Be patient!
Tip: Consistency is key, the more consistent you are the more likely you will see results. Find someone who can keep you accountable and remind you of why you are on this journey!
2. YOU ARE BLOWING OUT YOUR WEEKENDS
A few drinks here, a dinner and brunch there can easily push you out of a deficit and put you back into a maintenance phase. Alcohol is extremely high in calories and easy to over-do. To get better weight loss results, it is recommended to limit your drinking as much as possible. The best way to do this is to remove yourself or say no to environments that are heavily focused around drinking. Plan social events that promote healthy behaviours such as coffee and a walk with a friend. Dieting should not be something you do forever. So think about it, limiting drinking is a short term sacrifice for a long-term reward!
When you are just trying to maintain your weight and live a balanced lifestyle, then eating out is fine. But when you are trying to go that extra mile and lose weight, you are going to have to sacrifice a few outings. Meal portions at cafes are often larger and more calorie dense due to the increased amount of hidden oil and butters they use to cook the food. Be strategic with your outings and plan your meals around them.
Tip: Choose meals that emphasise protein and vegetables when eating out. Or you can host more dinners parties to ensure that you're in control of your portions sizes and can make better food choices.
3. YOU AREN'T CONSISTENT WITH YOUR PORTION SIZES
In order to see consistent weight loss results, you need to be consistent with your portion sizes on a day-to-day basis. That way if your weight loss results are plateauing you can go back to the plan and adjust where necessary. Book in a consult with a dietitian to identify correct food portion sizes for your individual requirements. Everyone is different!
Tip: Buy a food scale to weigh your food and consistently hit those measurements daily for two weeks. If your average weight hasn't changed in two weeks then reduce portions further.
4. YOU HAVEN'T ACCOUNTED FOR / NEED TO INCREASE YOUR NEAT
NEAT stands for Non-Exercise Activity Thermogenesis. Basically it's the energy expended when we do all the unplanned movement for the day. This includes activities like walking, washing the dishes and gardening. Since NEAT is hard to measure, the best indication we have is tracking our daily step count. Planned exercise only accounts for 1 hour of our day. If we increase our daily NEAT in the other 23 hours we have, then we can expend MORE energy throughout the day. As a result, this can accelerate the weight loss process.
Reflect on how many steps you do daily and gradually increase from there.
TIP: Invest in a smart watch to track steps and always take the stairs.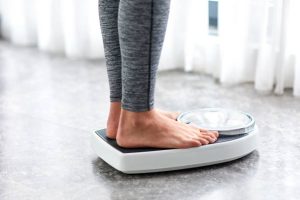 For further individualised dietary advice on how you can effectively drop weight AND GET BETTER RESULTS, you can book an appointment with me. Call us on (02) 9267 3775 or Book online!