In light of PhysiCo City's upcoming 15th Birthday I thought I would take the time to share with you my journey in becoming a
Physiotherapist
 and how it all began.
Let me take you way back to early high school. I had just attempted to descend a full flight of stairs with a single bound in the hopes of curtailing an agitated pursuant. My flight however, could have been classed as largely unsuccessful as I managed to clip the final step, inverted my left ankle and landed me in the nurses office with a bag of frozen peas around my left hoof.
After a trip to the hospital and a few scans  later it was noted that I had fractured my left fibula and required that I spend the next 4 weeks inside a short leg plaster.
Upon its removal the doctor asked me to stand and walk unto which I stood and toppled onto his desk being unable to initiate my lifeless left foot to support my body weight.
It was at this point that the doctor requested I was to go and see a physio.
So I booked an appointment and went along to my first appointment with both a mixture of intrigue and suspicion.
The Physio with whom I am still in contact with to this day assessed my injury and then took the time to educated me on my injury. She then proceeded to guide me through a series of exercises and stretches, allowing me to regain the strength and balance which I had once possessed
After a little commitment and diligence and a few short weeks I was back playing bull rush with the other kids in the playground.
This first trip to the Physiotherapist was enough to really gain my interest and captured my imagination of my future life. Once being aware of this new found profession I began to start asking questions, and the more I looked into this profession the more it appealed to me.
Having a strong interest in science subjects at school and a distaste for any type of computer based office work this profession ticked all the boxes for me. So I knuckled down, studied hard and managed to obtain the mark required to be accepted into Sydney University.
At university we studied in depth anatomy observing real human bodies and the way our body operates all the way to the cellular level. We were given experience in all of Sydney's major hospitals seeing a wide variety of clinical presentations which far exceeded our field of study. We had access to the best surgeons and Doctors in Australia allowing us to absorb how they worked and approached different medical conditions.
Now that I have been a Physio for 18 years I am even more enthusiastic about it, having experienced working with professional sports teams such as the Cronulla Sharks and West Tigers and even returning to University to study my Masters in Sports Physiotherapy and an MBA to help me with the business side of running a practice.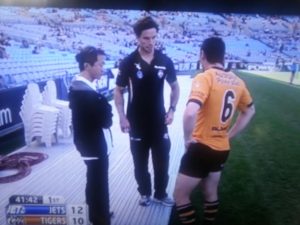 Every client I see is like a little murder mystery, and requires me to work out who is the the culprit of the injury and then outsmarting him at his own game.
The most rewarding part about the job is being able to make a big difference in peoples lives, be that through improving someone's sporting performance all the way through to enabling someone to walk pain free again.
The beauty of the profession is that there are always new concepts to learn and master and the variety and uniqueness of every presentation.[/vc_column_text][/vc_column][/vc_row]